Troy MI's Best Machine Shop
The Highest Precision Manufacturing & Machine Shop near Troy
Here at Iridium Manufacturing, we offer precision manufacturing solutions to our partners by driving quality from the floor up, and developing machining solutions that enable our partners to increase market share. Our team of in-house project managers allow us to coordinate each and every aspect of your project, such as designing, engineering, and manufacturing - as well as ensuring complete precision and on-time delivery of your project.
At Iridium Manufacturing, our team members keep our client's wants first! We model prototypes and create the custom tooling around their final part data. Such design capabilities allows us to design to-part data, and adapt as the client's needs change - helping to maintain not only project timelines, but the bottom line as well!
---
Contract Manufacturing
We offer contract manufacturing for all of our machine shop services. If you have a project that needs to be done quickly, or you don't have the means to fulfill your needs, contact Iridium Manufacturing. Our contract services are always customized to your needs, and we work with every customer throughout the entire job process to make sure that we are not only meeting your specific goals outlined on the project - but exceeding them.
"No" is never an answer. We strive to get every job done that comes out way, and we never say no. We are willing to tackle most jobs, even if it's a service that we've never performed before. Our technicians are highly knowledgable and experienced in most fields of manufacturing, and we will deliver your project on time with the highest standard of quality - period. We are in communication with you throughout the entire life of the project so you never have to worry or question how things are going.
---
Our List of Equipment
Here's the comprehensive list of our equipment that we have at our machine shop. We are confident that we'll be able to tackle any job that comes our way when it comes to your project.
Manufacturing Equipment:
Reid Rollerway Grinder
(2) Arbor Presses
Clark Bench Grinder
Belt and Disc Sander
Roll In Band Saw
5 Ton Crane
Ramco Horizontal Saw
Media Blast Cabinet
2 Ton Fork Truck
Gardner Denver 20hp Compressor
Maxus 80 Gallon Compressor
Inspection Equipment:
Starret 36" x 48" Granite Plate
18" x 24" Granite Plate
(4) 12" x 18" Granite Plate
14" Optical Comparator
Multiple gauging equipment including calipers, mics, blocks etc.
Computers and Technology:
(4) Workstations
Visi 2016
Camtool V.11
(2) HP Plotters
---
Iridium Manufacturing provides complex manufacturing and machining solutions to a wide range of industries, including but not limited to:
---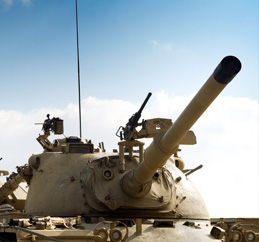 Defense
The team at Iridium Manufacturing has a long reputation of providing quality parts and superior service to support our nation's defense. Our cutting-edge technology and commitment to accuracy make us one of leading choices for machining precision parts that meet the complex requirements of the various defense industry manufacturers.
---
Energy
The ever-changing energy industry is all about efficiency -- and as we continue to grow and expand our capabilities, we are committed to new and innovative solutions for creating higher-efficiency, lower-cost parts and prototypes. From design to execution, our team is available to create the precision parts you need, to your exact specifications, in a wide variety of materials.
---
To learn more about us, or to request a quote for machine shop services, call Iridium Manufacturing today at (586) 884-6441. We're located in Sterling Heights, MI and service Oakland, Macomb and Wayne Counties.